Carbon fiber has been used in many applications because of several of its important features such as its strength and lightness. Those characteristics will be explored in this post but the chemist in me must first address the nature of carbon and carbon containing compounds.
The term "organic" has most likely become familiar to many of you because of its connection to foods – how foods are farmed, processed, preserved, etc. However, to a chemist, the term organic means the branch of chemistry that involves the study of compounds that contain the element carbon.
My inorganic chemistry colleagues will be the first to remind me that carbon, in its pure form, is not actually considered to be organic because it's an element, not a compound. Pure carbon takes several forms, including the "lead" in your pencil (graphite form), a lustrous gemstone (diamond form) and some other forms that have been discovered within the past century, such as the fullerenes (usually 60-70 carbon atoms arranged in a 3-D structure similar to a soccer ball or geodesic dome, thus, affectionately known as "Bucky balls" after Buckminster Fuller).
So, is carbon fiber organic? The answer is — it depends on the context! The website "How Products are Made" (http://www.madehow.com/Volume-4/Carbon-Fiber.html) explains the composition of and process for making carbon fiber, as follows:
"A carbon fiber is a long, thin strand of material about 0.0002-0.0004 in (0.005-0.010 mm) in diameter and composed mostly of carbon atoms. The carbon atoms are bonded together in microscopic crystals that are more or less aligned parallel to the long axis of the fiber. The crystal alignment makes the fiber incredibly strong for its size. Several thousand carbon fibers are twisted together to form a yarn, which may be used by itself or woven into a fabric. The yarn or fabric is combined with epoxy and wound or molded into shape to form various composite materials."
Aha! So basically carbon fiber alone is probably best classified as inorganic but those "composite materials" are carbon based compounds (plastics, epoxies, etc.) and are thus classified as organic. Therefore, if you have carbon fiber composite "bits" on your motorcycle, then you can make the claim that your bike is (at least partly) organic! (Try dropping that line while shopping at your local organic food co-op and let me know about the reactions you get!)
OK – back to the matter at hand … so, it's the way that the fibers are aligned that gives carbon fiber its characteristic strength. This strength, combined with its light "weight" makes it a very desirable material in the manufacture of automobiles and motorcycles, especially in racing applications where both strength and lightness are highly desirable. It is very important to note that carbon fiber and carbon fiber composites have complex characteristics that require multiple measures for comparison with other materials. However, to simplify the issue of lightness, one can compare the simple physical property of the density (the mass per unit volume) of the materials. Steel has a density that is a little more than five times that of a typical carbon fiber composite, and aluminum's density is almost twice that of such a composite. The bottom line, then, is that the same sized (volume) part made from a carbon fiber composite makes that part about 2-5 times lighter than if an aluminum or steel part is used. That simple, single factor has revolutionized the design and manufacture of motorcycles (and airplanes and autos, too).
Well, before I leave off, I just want to point out that it's not only professional racers who like to go fast and thus incorporate carbon fiber "bits" into their bikes. Motorcyclists who ride for fun, enjoy the occasional track day, and commute on our motorcycles, appreciate a strong yet light machine. Oh, and carbon fiber also looks pretty stylish and "racy" to those of us who admire the speed and the design of modern bikes. Below are two photos of stock carbon fiber parts on my Ducati Hypermotard 1100 and one of the after market exhaust on my husband's Hyper. (So far mine is stock, but perhaps the future holds some mod's for me, too. Oh, and I also recently fell in love with a beautiful helmet that is wrapped in carbon fiber. Drool …)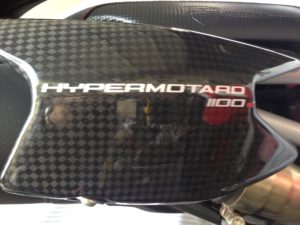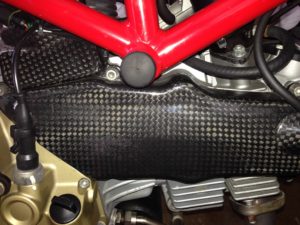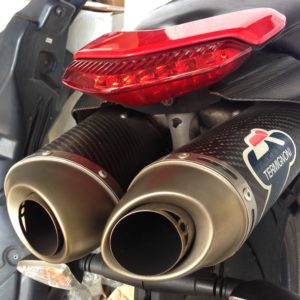 Phew! All of this "talking" is making me thirsty. Stay tuned for my next post about my favorite inorganic molecule (water) and its connection to motorcycling. It's very cool. (OK, I heard you groan…)
Please share your comments and photos with me! I'd love to see them.